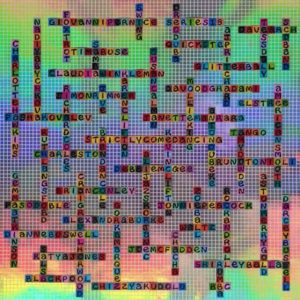 Alison takes commissions for bespoke name-chains, as well as personalised versions of existing designs. They make great gifts for children and students finishing school; businesses listing their services and products; a reminder of your wedding guests; personalised presents, favourite films, bands, actors, DJs, TV shows, places, street names, towns…the possibilities are endless!
The designs can be printed on different surfaces (fabrics, banners, perspex…) and in almost any size – please get in touch to discuss requirements.
Photo above is of a Strictly Come Dancing 2017-themed one-off name-chains collage.